Welcome to the MECH-X4 Wiki!
Welcome to the official MECH-X4 Wiki, a collaborative encyclopedia for everything and anything related to the Disney XD show, MECH-X4! There are 177 articles and though we are still growing since this wiki was founded, we hope to make this wiki into something great. We want everyone to feel safe, comfortable and welcomed so we can all assist each other in creating a comprehensive database for MECH-X4. Don't forget to visit this wiki's Policy before editing and if you have any questions, please go to the one of the admins or bureaucrats. Have fun!

Today is the 25th, and currently there are 6,623 edits to this wiki. To create a new article, just enter the title in the box below.

<createbox> width=24 break=no buttonlabel=Create new article!

</createbox>
About the Show
The series centers on Ryan Walker (Nathaniel Potvin), a freshman at Bay City High who has technopathy – the extraordinary ability to control technology with his mind. His talent mysteriously awakens MECH-X4, a giant 150-foot robot built by an elusive genius-in-hiding to defend their town against impending doom.
Ryan recruits his two best friends –Harris (Kamran Lucas) and Spyder (Pearce Joza) — and older brother Mark (Raymond Cham), to help him operate MECH-X4.
When monsters suddenly begin to descend upon their city, the four must quickly learn to work as a team in order to pilot the robot that is their only hope of saving their town, and ultimately the world, from mass destruction.
Featured - May 2018
---

Kim Grey was the principal of Bay City High. She appears nice and caring, but in fact is the one deploying the monsters against the city. She was working for Seth Harper, an evil mastermind bent on destruction, but she never knew her boss's identity. Read more...

---

---

Clawboon is a monster made out of Crab and Baboon DNA. Grey made it to take down the pilot of Mech-X4 but it was unsuccessful and Clawboon was destroyed by the X-Weapon. Additionally, in Let's Get the Big Bad!, Grey fell into Clawboon's ooze which was zapped by the X-Weapon. This meant that Grey could transform into Clawboon whenever she wants. Read more...

---

---

Versus The Thirty is the twelfth episode in Season 2 of MECH-X4. Ryan meets more of Leo's technopathy test subjects, including his birth mother. Read more...

---

---

Ryan and Mark have always been brothers. Ryan and Mark may always bicker and argue but they still love each other in the end. Even when Ryan found that he was adopted, Mark still supported him in finding his biological parents.

---
Next Episode
---
Series Finale!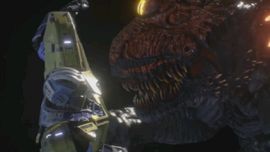 Versus The End premiered on August 20, 2018!

Blog
Latest Blog Posts
Why has there been no update on Mech X-4 for like a year? This is concerning me, as we don't know for sure if it's canceled. I know Kamran Lucas twee…
I'm probably blowing this waaaay out of proportion, but I think Traeger was the monster that was housed in that giant Primorphous Core from Let's End…
See more >
Chat
<chat></chat>